Evidence Leads the Future: Real-World Evidence Empowers Clinical Development
2021-07-16 | Press Releases
On June 17–19, 2021, the Clinical Data Management (CDM) 2021 China Conference was held in Shanghai with the theme of "Drive CDM with Digital Transformation." Many scholars, experts, and industry leaders gathered in Shanghai to discuss areas of interests. Dr. Haijun Cao, Vice President of Happy Life Technology, was invited to attend the conference and gave a keynote speech entitled "Exploration and Prospects of Clinical Development Empowered by Real-World Data."
Since 2013, the United States, the European Union, Canada, and other countries and regions have issued guidelines related to drug development and review supported by real-world evidence (RWE), suggesting that regulators have recognized the substantial value of RWE. It could accelerate the drug development and the approval of new medications. China is beginning to appreciate the value of RWE and has issued the new Guidelines on Real-World Evidence Supporting the Drug Development and Review (Trial) and Guidelines for Real-World Data Used to Generate Real-world Evidence in 2020.
RWE assists drug development throughout the life cycle, especially in clinical development and life cycle management. It can also support the design and supplement the traditional randomized controlled trials (RCTs). Many regulatory agencies are using RWE to facilitate their decision making. Dr. Haijun Cao introduced the application of RWE in the clinical development of new treatment, including the registration of new drugs and expanding their indications.
To help regulatory making decisions, real-world studies provide additional evidence of effectiveness and safety of new medicines ; for some rare diseases and significant life-threatening diseases that lack effective treatment, a single-arm clinical study using RWE as an external control arm can be considered.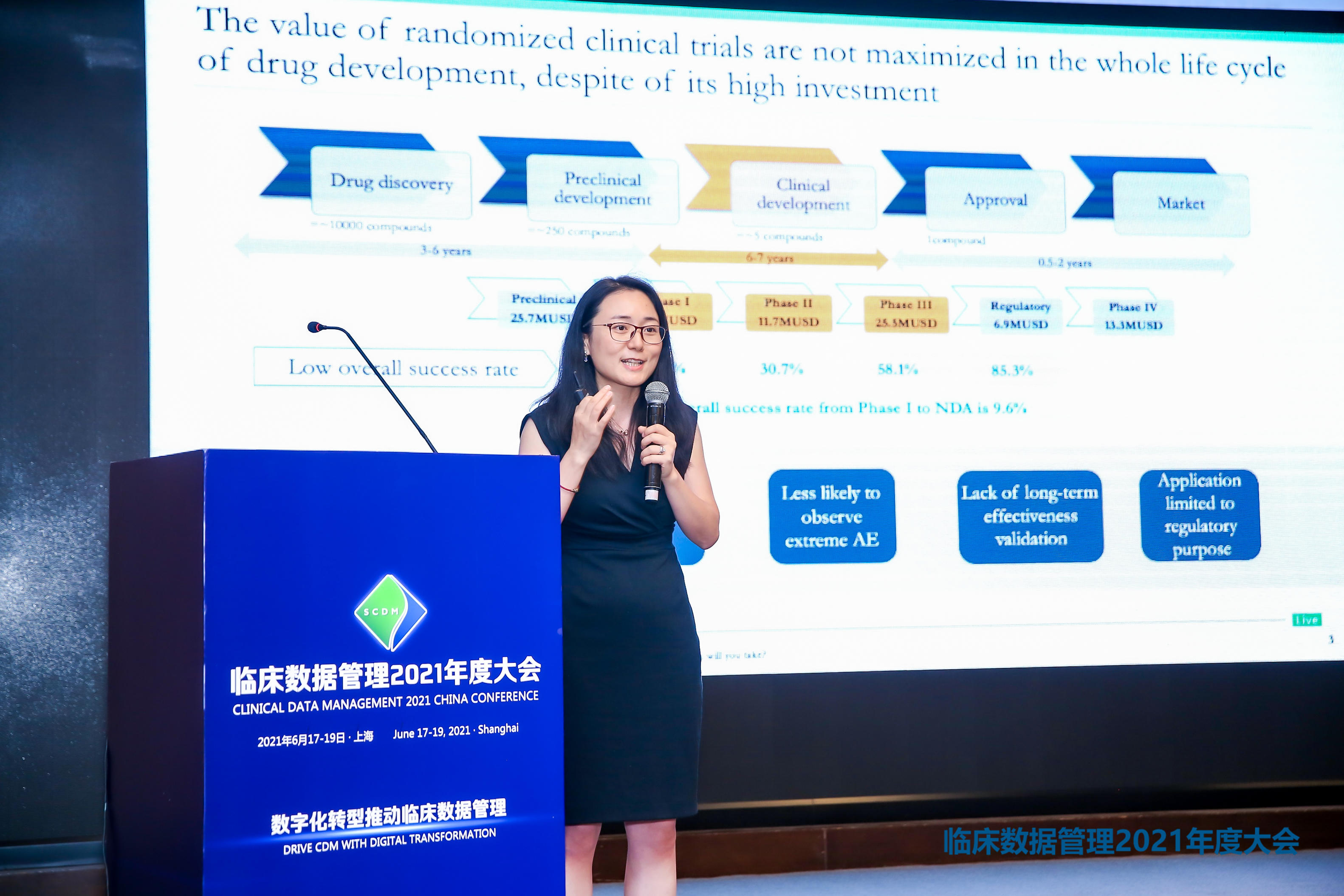 To enhance life cycle management, RWE can support the development and expansion of new indications, such as adding subgroups, gathering RWE on safety and effectiveness, providing possible solutions to change the label of listed drugs, and etc.
There have been other applications in drug research and development. RWE supports the exploration of unmet needs and unsatisfied populations and analyzes the feasibility of clinical trials. We can formulate inclusion and exclusion criteria more scientifically and provide practical guidance on trial design.
"In the future, real-world data or evidence will be widely used to support regulatory decision-making and improve clinical development." Dr. Haijun Cao expressed her optimism about the application of RWE in China. She also said that "RCT is the gold standard for generating clinical evidence, and RWE supplements RCTs."